ABOUT THIS COURSE
Learn how to setup 10 unique FX inspired by big Hollywood films and the current space race

Get step-by-step, start-to-finish guidance from zero all the way to finished FX

Learn fast with to-the-point, information-packed, bite-sized lessons

Gain confidence in building your own unique FX shots


This entire course is project-based, meaning you will have completed several FX setups that you can instantly use to advance your career
NO MORE LONG & BORING TUTORIALS (that no one finishes)
Who says that longer tutorials are better? I try to make them as short as I possibly can

I edit the recordings and cut out pauses & all the fluff so you can get the information as fast as possible

The lessons in this course are cut up into bite-sized chunks of 10-20 minutes in length, allowing you to make progress every day in your spare time and get momentum from making continuous progress & completing lectures faster
THIS COURSE WILL GIVE YOU:
Finished FX shots & FX elements you can immediately use in your own projects & reel

A solid basic knowledge of the main features of Phoenix FD, including fire, smoke, and water - so you'll have the confidence to create your own FX

Project files are included so you can just open my file and look at my settings if you're struggling to make something work
10 LESSONS & ALL PROJECT FILES INCLUDED
LESSON 01: Compressed Air
New to Phoenix FD? I got you. We go over the basics in this first warm-up lesson. We create a simple particle flow to drive our compressed air simulation. I go over the basic Phoenix Fire & Smoke Source settings and the main simulation grid settings, such as dissipation, vorticity, buoyancy, & volumetric rendering settings.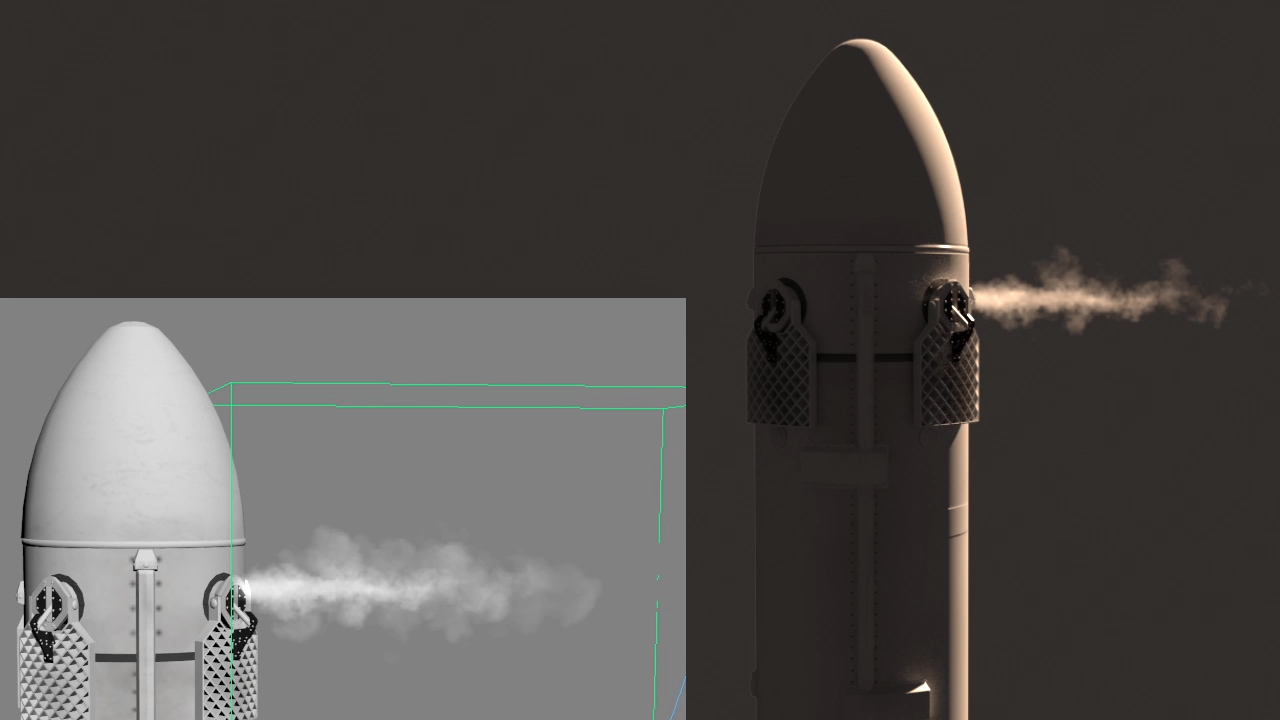 LESSON 02: Engine Burn
Learn how to setup this fire effect, which can be easily modified for all sorts of interesting uses, such as a jet afterburn, a torch, or any high-velocity fire. We go over the technique of using temperature to render as fire, and parameters like 'cooling' to make the fire dissipate almost immediately.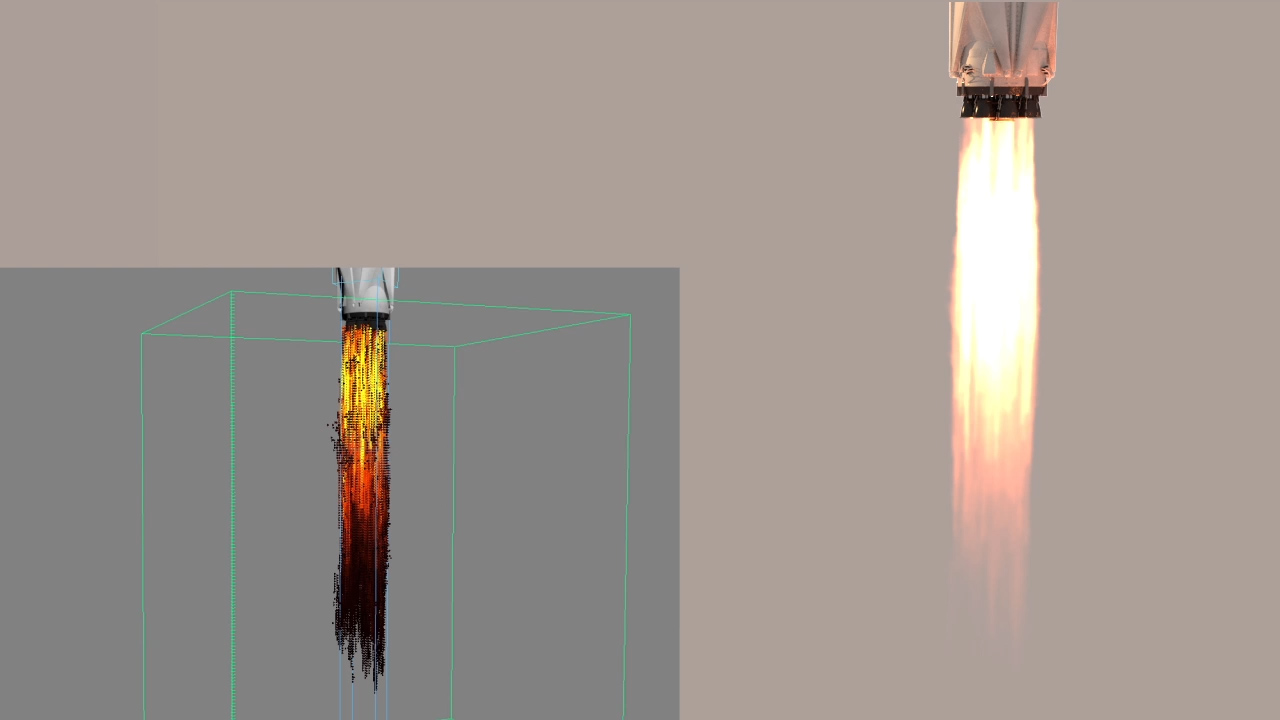 LESSON 03: Supersonic Boom

Use a gradient ramp map as an emission map for our smoke simulation around a cylindrical smoke shape without any sharp edges.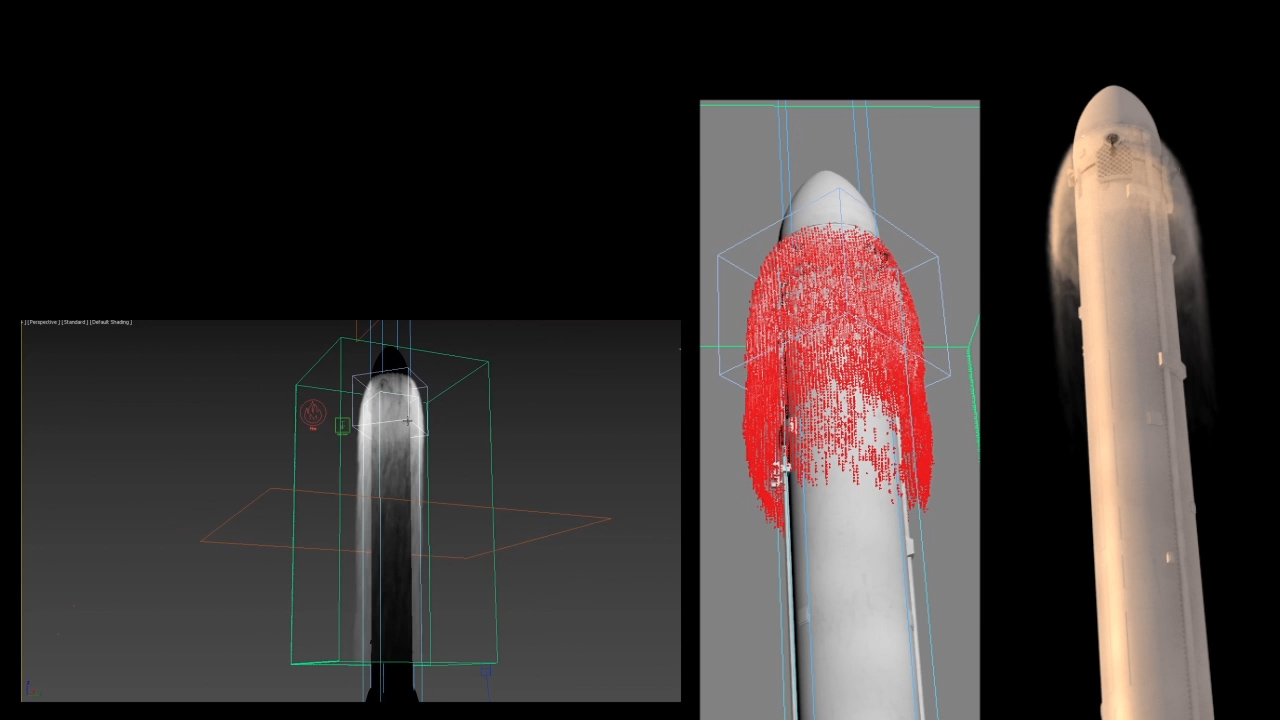 LESSON 04: Freezing Liquid Oxygen

Use multiple noise maps to drive a randomized smoke simulation, with various areas of the rocket's body emitting more smoke than others, at various intensities. Set up a heavy smoke simulation which dissipates quickly & add a wind force for a final effect.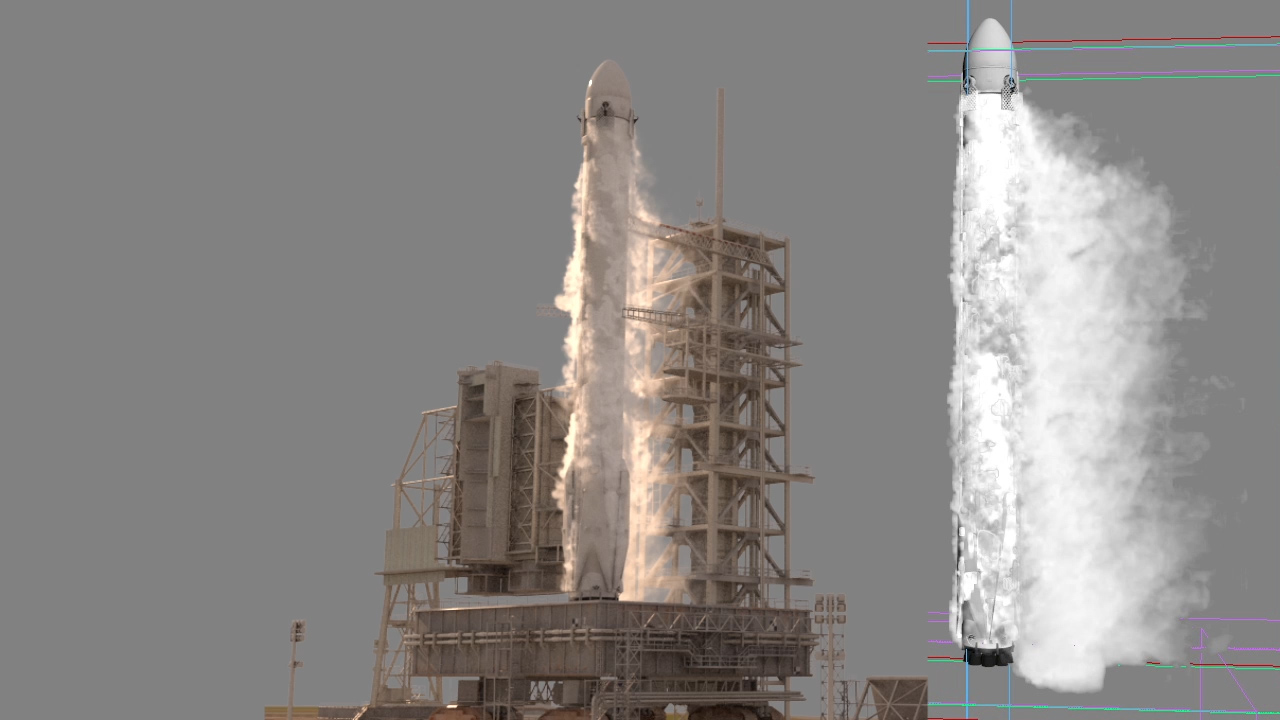 LESSON 05: Main Rocket Launch Smoke

Here I'm using particles generated by Particle Flow to drive a large scale smoke sim. We go over the massive vorticity settings to achieve a large-scale look with details in the plumes. Learn how to use adaptive grid to have the grid expand as the smoke grows larger. Learn proper workflow of splitting the entire rocket launch into separate FX elements for a more manageable workflow. Adjust smoke settings such as opacity and color in the volumetric settings.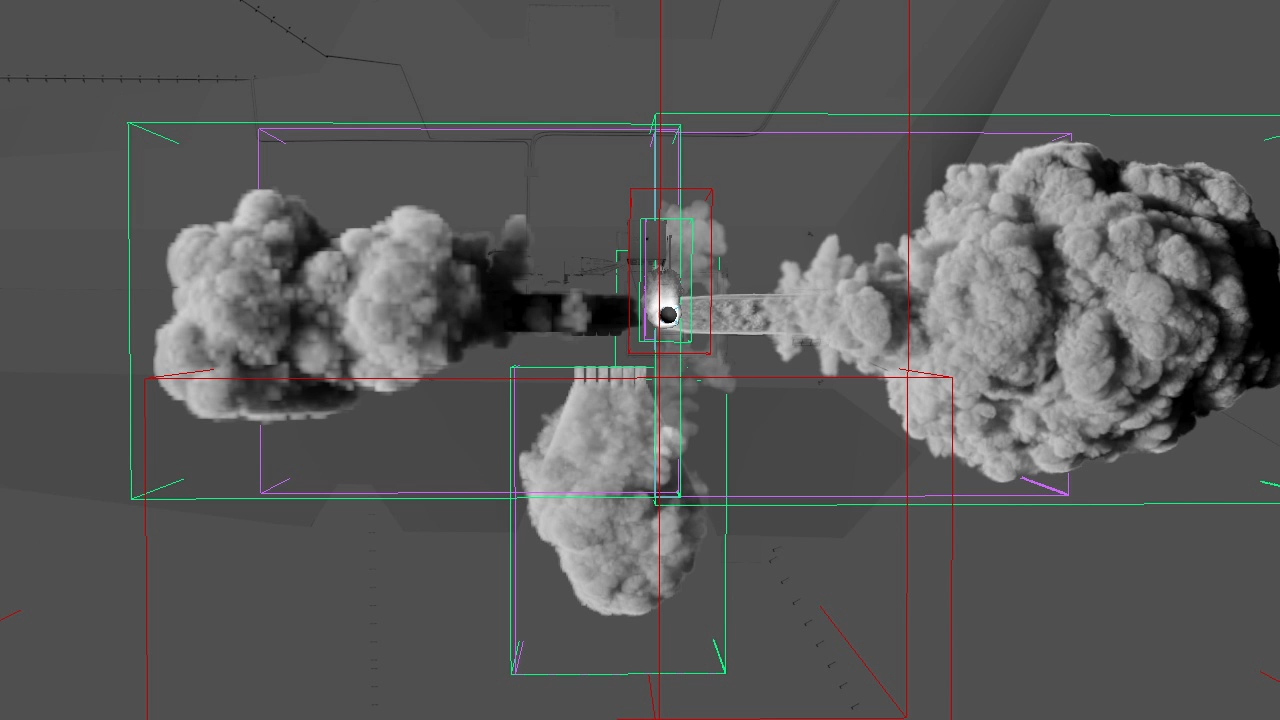 LESSON 06: Secondary Launch Smoke

In this lesson we add an omni-directional smoke wave which occurs when the rocket starts rising up and the engine burn hits the launch pad to create a large smoke plume going in all directions.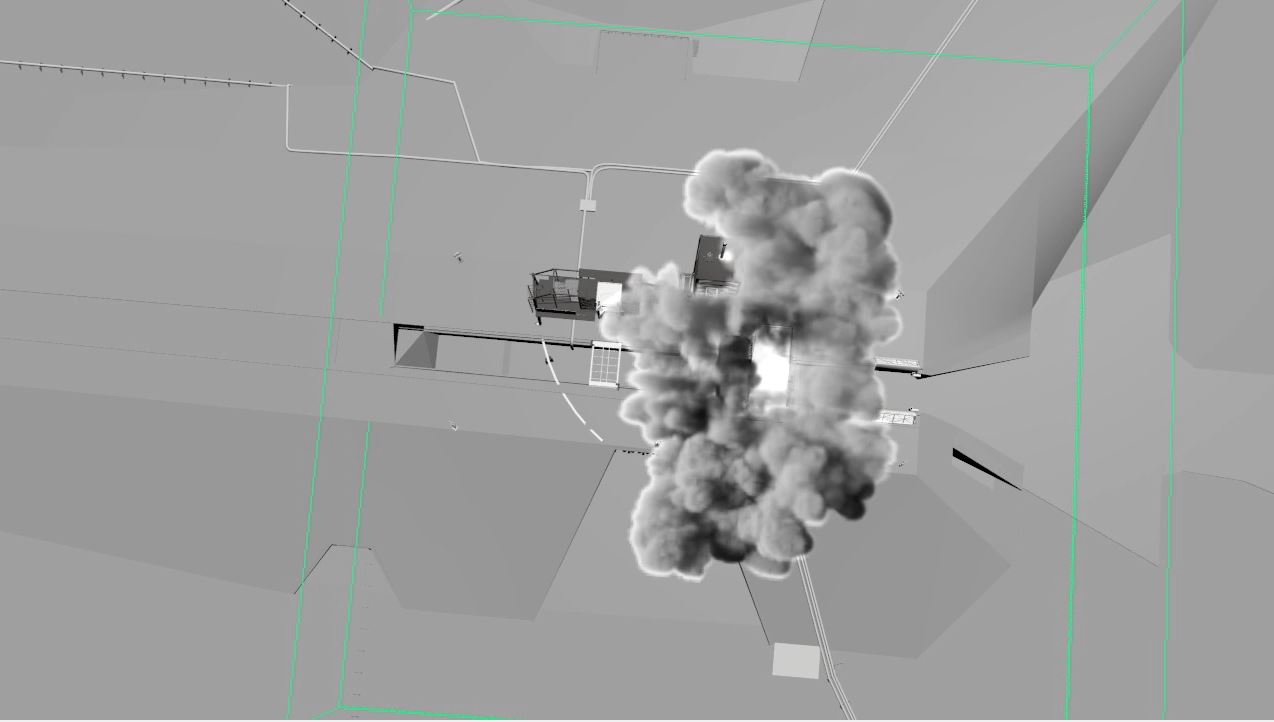 LESSON 07: Water Deluge Simulation

Use the liquid source and liquid simulation grid to setup a large-scale water simulation of the Deluge system, which protects the launch pad from the immense heat generated by the rocket engine. Learn how to properly setup splash & mist for a waterfall-style simulation of droplets which are dragged by air effects and behave realistically. We also go over the particle shader and optimizing our resolution & simulation settings to create a scene that looks good but doesn't take forever to render out.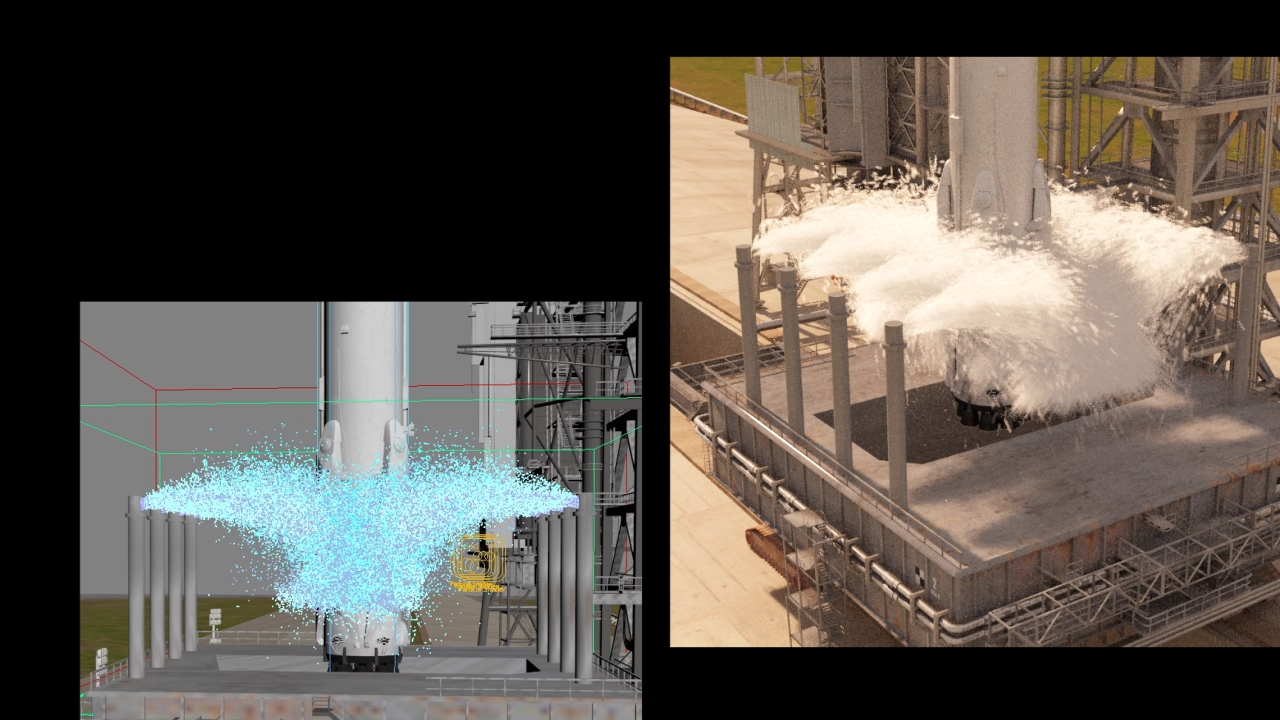 LESSON 08: Booster Landing Ground Fire

Learn how to tell our Particle Flow particles to interact with the ground using a Collision helper & a secondary flow to create fire that spreads out along the ground surface as the rocket makes its approach.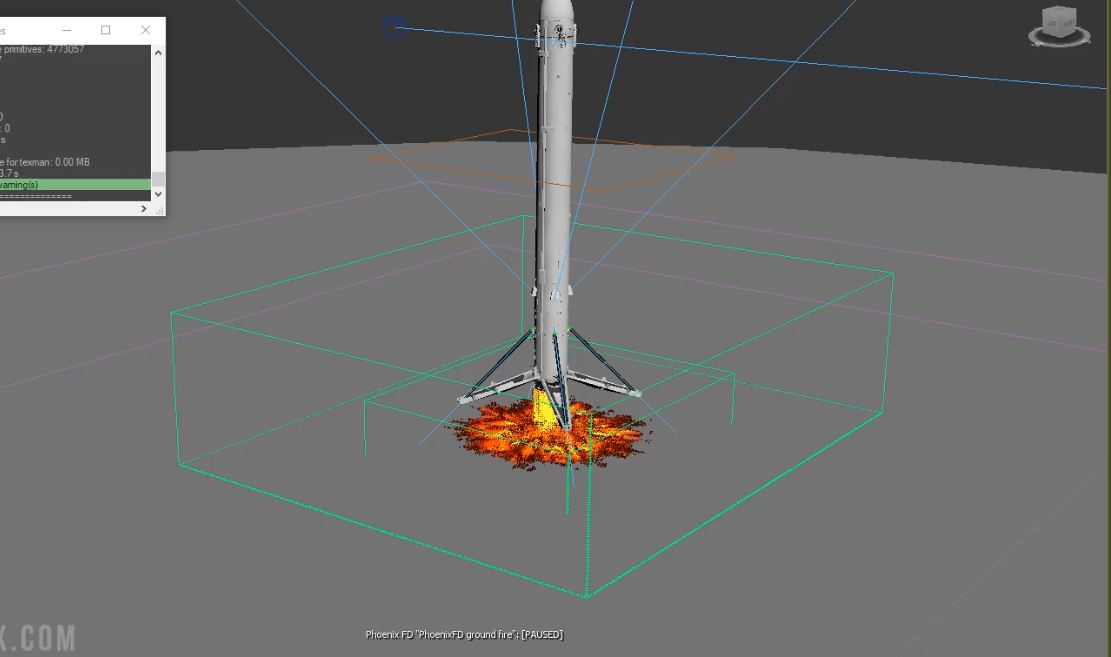 LESSON 09: Landing Firewave

In this lesson we set up this fire wave from scratch & go over the fire volumetric rendering settings.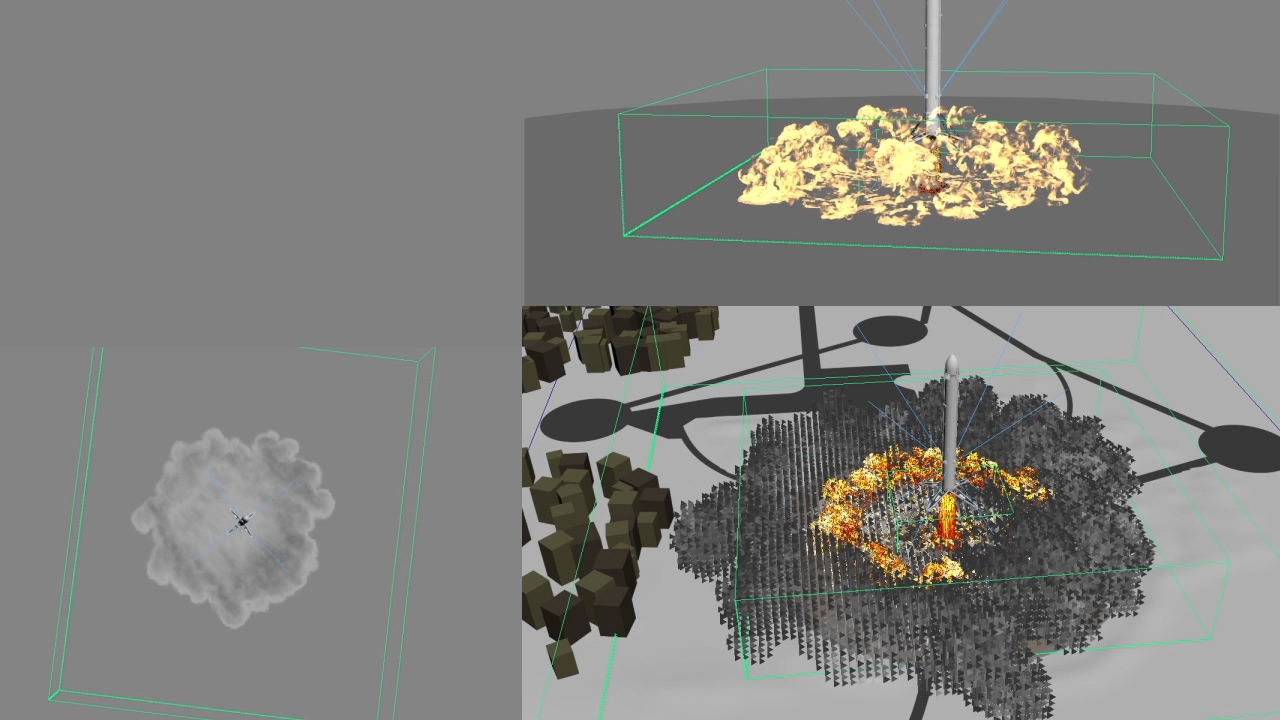 LESSON 10: Landing Smokewave

In the last lesson, we setup the main smoke wave which occurs when the booster lands & have it blow away from the frame to reveal the rocket. Here we go over Phoenix settings such as motion velocity to tell our smoke to take on the speed of the particles, which is essential for a nice shockwave-style effect.